Petropoulos, George P.
Assistant Professor | Geoinformation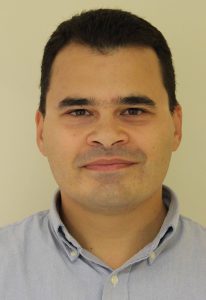 Office 3.3 | New Building (inside main campus)
Department of Geography
Harokopio University
70 El. Venizelou Str., Kallithea
17671, Athens, Greece
[+30] 210 95 49 163
Email: gpetropoulos [at] hua [dot] gr
Teaching
Undergraduate Courses
Thematic Cartography
Introduction to Cartography
Geoinformation in Environmental Management
Postgraduate Courses
Advanced Topics of Applied Geoinformation for the Environment
Research Themes in Geoinformatics
Studies
PhD degree in Earth Observation, Department of Geography, King's College London, United Kingdom, 2008
Master's in Remote Sensing, University of London, intercollegiate degree between Geography Dept. of University College London & King's College London and Dept. of Earth Science and Engineering of Imperial College, United Kingdom, 2002
Bachelor's in Agronomy, Department of Natural Resources Management & Agricultural Engineering, Agricultural University of Athens, Greece, 1999
Research Interests
Earth Observation, Geographical Information Systems (GIS), digital cartography, GPS, simulation process models, ground measurement networks
Geoinformation use in geographical and environmental applications
Mapping of the natural and man-made environment and monitoring of their changes over time
Study of biotic and abiotic hazards and of their spatiotemporal dynamics
Development and implementation of geoinformation tools
All-inclusive assessment of geoinformation algorithms and products
Operational products based on geoinformation and their practical applications
Recent Announcements – News
Address
Geography Department
Harokopio University
Eleftheriou Venizelou Ave., 70
GR-176 76 Kallithea | Athens | Greece
Contact Details
Undergraduate Secretariat:
t: +30 210 95 49 150
t: +30 210 95 49 151
f: +30 210 95 49 376
E-mail: geosec@hua.gr
Postgraduate Secretariat:
t: +30 210 95 49 325
f: +30 210 95 49 376
E-mail: geosecpost@hua.gr
Harokopio University
The following link leads to Harokopio University website.